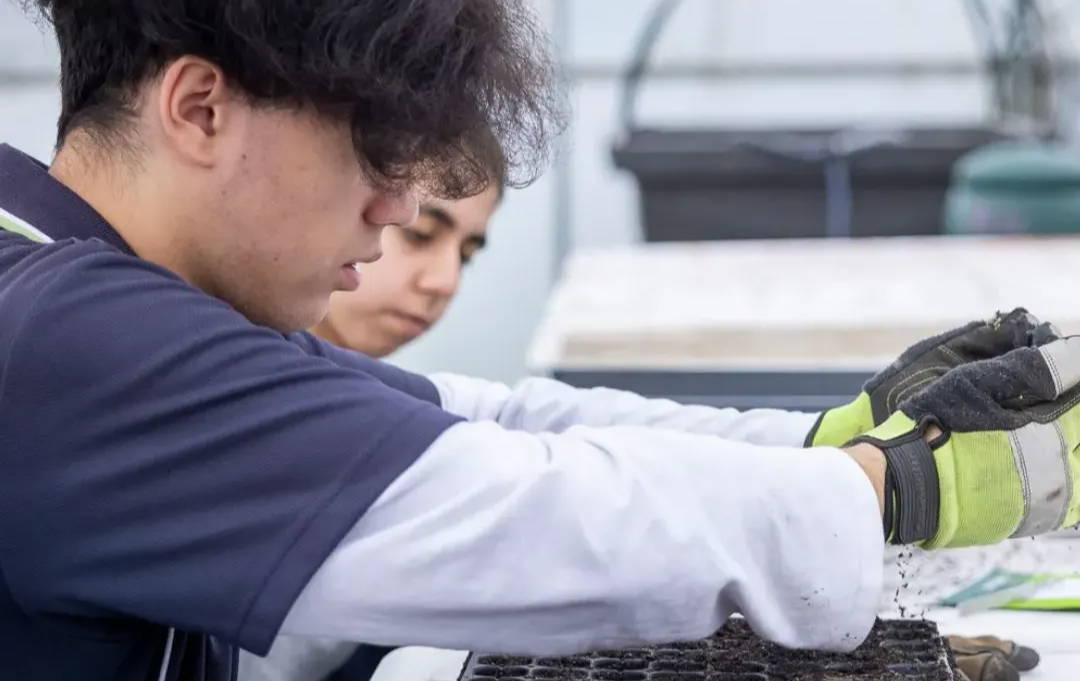 Launch your students into the future of food.
Farmwall's School Program is empowering passionate teachers through community collaboration and technology
---
Our innovative growing kit and training aid gives educators a unique opportunity to improve food literacy and student wellbeing, and assist with social and emotional learning through STEM education. Watch to see how:
---
---
---
Online Education Platform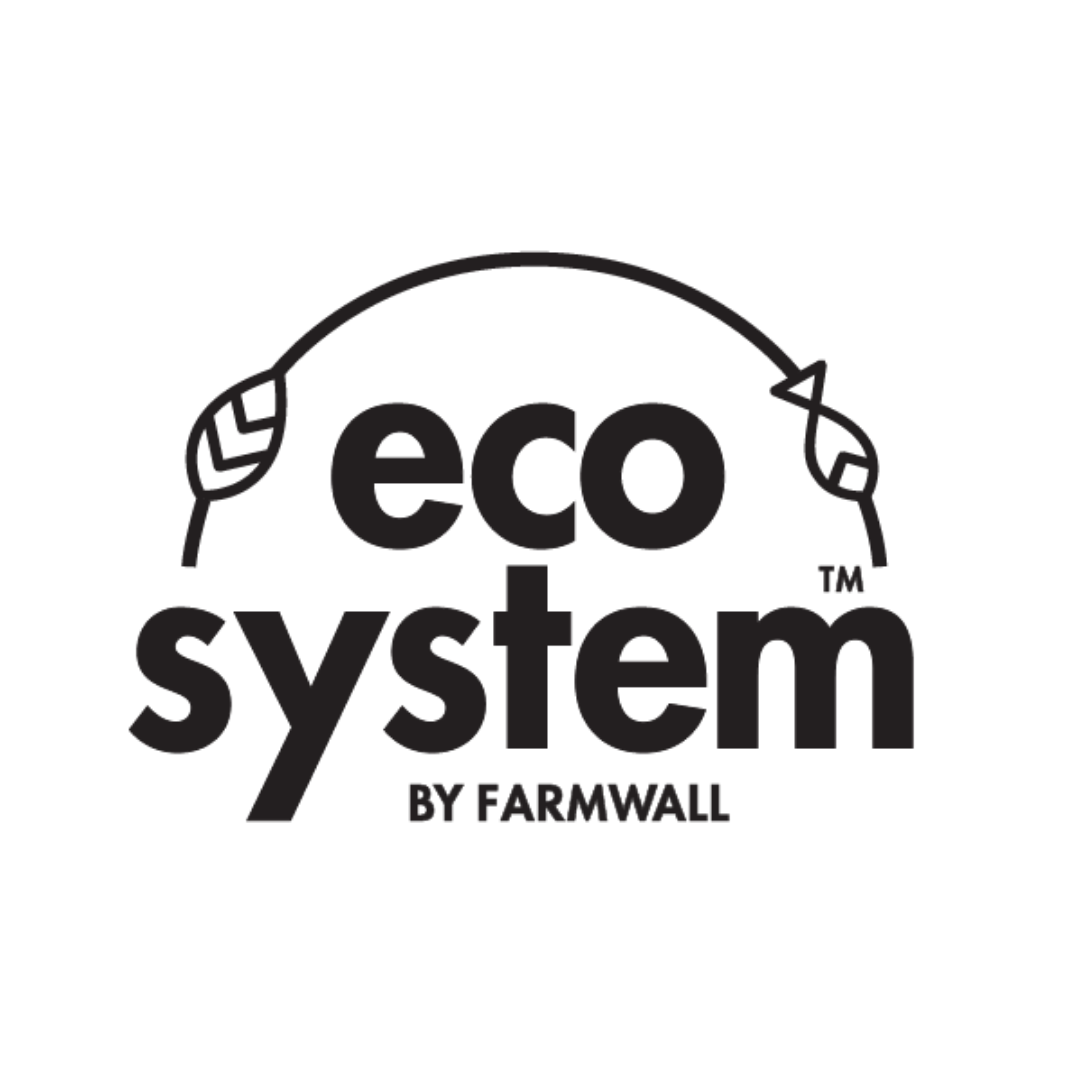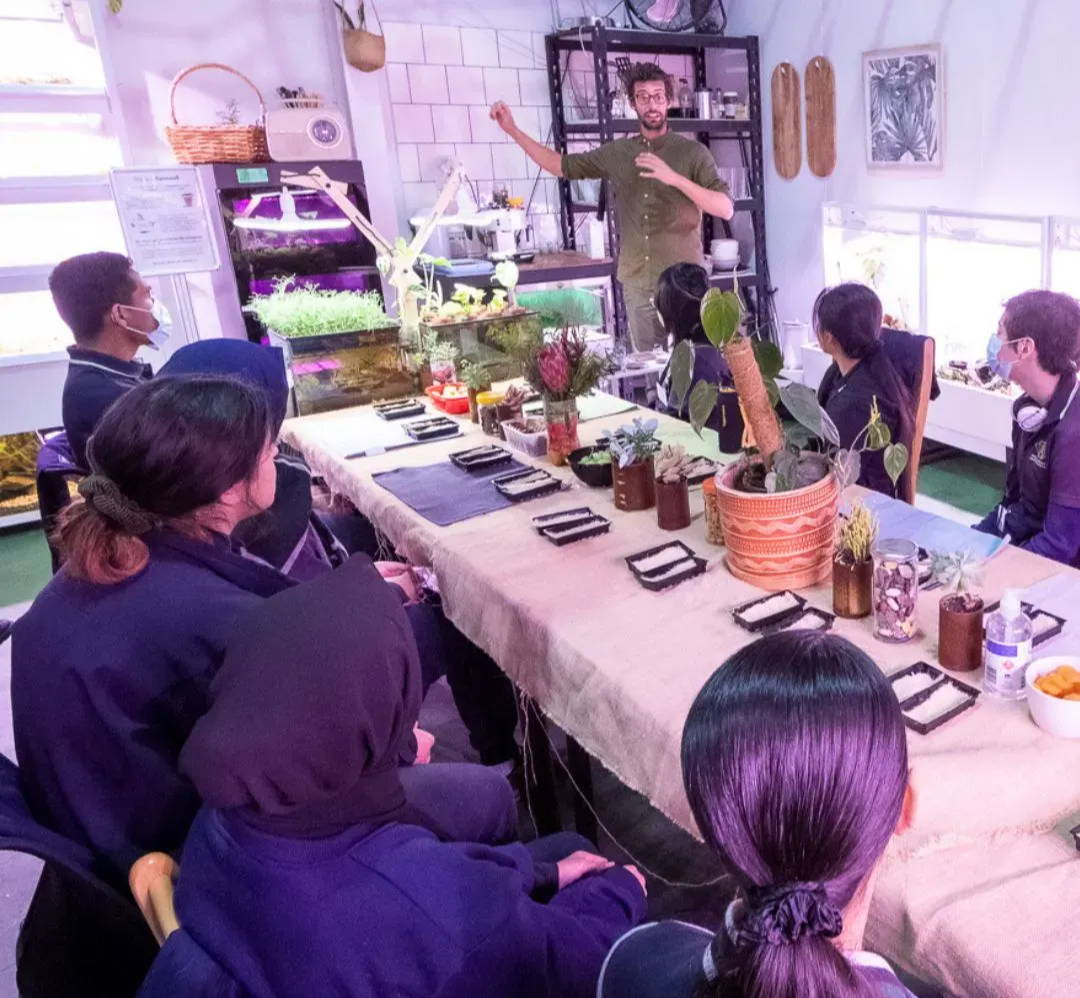 should we get a graphic designed to keep the style across 3 tiles consistent or is it more important to show a real life photo example? alt - replace drawing of growkit w/ photo for balance
- Dual aquaponics and hydroponics growing system
- Includes all hardware required, growing mediums, seeds, nutrients, water testing kits and fish
- Grow food in the classroom
- Deliver content on STEM, health and nutrition, sustainability, food technology, biology, environmental science, agriculture, entrepreneurship, design thinking and more
- 10 week self-paced course that can be adapted to your classroom's needs and your curriculum
- Use on any device
- 7 day live support from Farmwall urban farmers to troubleshoot and answer any questions you may have
- Share resources, lesson plans and more with other educators completing the course
- Meet educational requirements on sustainability, ethics, critical thinking and more
- Our urban farmers provide in-classroom incursions that teach students about social entrepreneurship, Urban Farming and Sustainability.
---
---
Curriculum specific / hands on: The Farmwall School Program is a hands-on and practical educational tool that brings science and tech learning into the real world.
Education outcomes for STEM - direct link in with curriculum
Focus on hands-on / practical - real life application of studies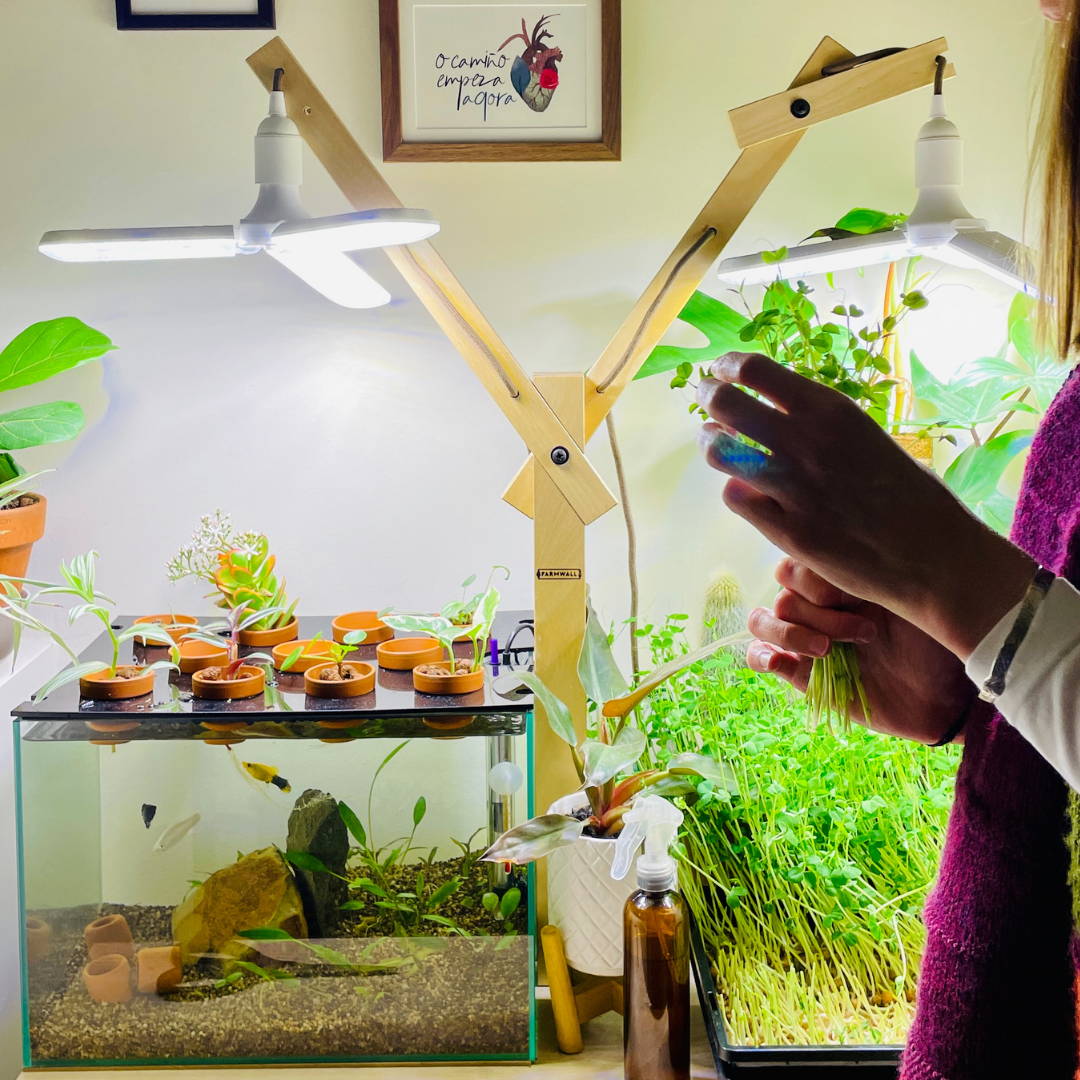 this image or something similar showing the kit set up & full of plants but in landscape / banner dimensions. something w kids even better
---
Curriculum timeline throughout year here - make up from excel sheet
---
You can expect support and guidance from the Farmwall team throughout the year as you complete the online modules.
Meet the team [edit down bios a bit]: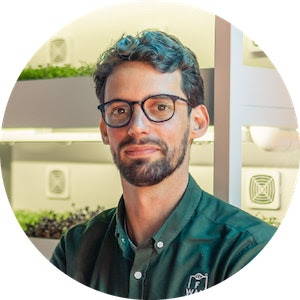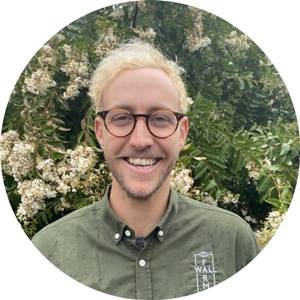 Geert Hendrix - VIC
Farmwall CEO
Geert started Farmwall in 2017 with the goal of bringing fresh veggies into the urban landscape, and is now helping empower students and teachers to start learning about cutting edge growing methods in simple, closed-loop systems. You'll hear more from Geert in modules and in our live sessions.
Elliott Keen - VIC
Urban Farmer & Education Coordinator
Elliot is a horticulturalist and musician who has been with Farmwall since 2020. He's passionate about soil regeneration, urban food growing, education and climate action. Elliot is an instructor in the course and has extensive knowledge about Farmwall technology, fish care, hydroponics and aquaponics.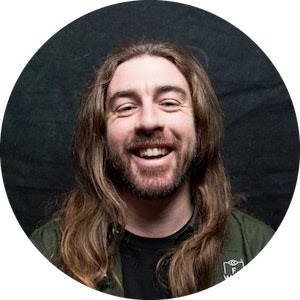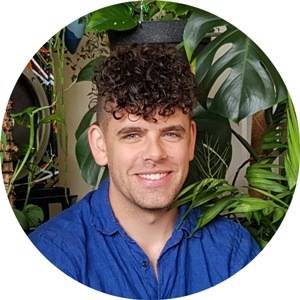 Luke Barbuto - NSW
Urban Farmer and Education Coordinator
Luke will teach you how to seed and grow your microgreens so you can become an indoor farmer. Luke is most passionate about two things: growing food and brewing beer. When he isn't dabbling in craft ales he takes care of Farmwall's larger, industrial aquaponic systems scattered around Sydney.
Patrick Wain - VIC
Urban Farmer & Project Manager
Patrick is a horticulturalist and former mechanical engineer who joined Farmwall in 2021. His growing specialty is indoor plants and indoor farming. When he's not taking care of his 200+ plants at home he's working at Farmwall to grow, propagate and share his horticultural knowledge with the Farmwall community.
---
---
No upfront payment required. Limited spots available for 2022.
Enrol before the end of Term 4 to start the program Term 1 2022
[how do we make these payment plan options possible in the product page so people don't have to contact individually every time. Different variations in dropdown menu? or email for monthly plan set up but upfront can be thru product page]
Pay upfront
Early registration: $1000 lump payment. Enrol before 30 November 2021
Late registration: $1250 lump payment. Enrol before 17 December 2021
Monthly payment plan [are schools billed for all 12 months or only during term time?? do we include summer hols in monthly fees? minimum contract? - are they committed to the full 12 months? what date does billing start?]
Early registration: $100 / month; $1200 in total for year long program. Enrol before 30 November 2021
Late registration: $120 / month; $1440 in total for year long program. Enrol before 17 December 2021
Not ready to commit right now? Want to find out some more information about the program or speak to us one on one? Sign up your expression of interest and we'll get in touch.
---
▼ What is aquaponics and hydroponics anyway?
Simple answer
Hydroponics means growing plants in water.

Aquaculture means growing fish.

Aquaponics = Aquaculture + Hydroponics. So, growing plants and fish in the same system.

Longer answer

The name aquaponics is constructed from the two technologies it integrates:
Aquaponics = Aquaculture + Hydroponics
Aquaculture means fish-farming, or fish growing. Hydroponics means the growing of plants (ponics) in a water medium (hydro). Therefore, aquaponics is the growing of fish in tanks and using the waste the fish produce to grow plants using a hydroponic method.
Aquaponics, as a specialised sub-set of Integrated Agriculture, is the integration of aquaculture fish production with hydroponic plant production. The aquaculture method used for aquaponics is known as Recirculating Aquaculture Systems (or RAS). In short; growing fish in tanks, within controlled conditions, using various filters to clean the water.
▼ Who is this for (students age)?
The secondary school program is designed to be delivered to any level of secondary school other than VCE, so years 7-10. The program can be tailored to suit younger students in primary school, or as a specialised project for older students or school groups. Contact Farmwall to discuss tailoring the program if you're considering it for a younger or unique audience.
▼ Do I have to set it up myself?
Yes, the program is designed with the philosophy of learning by doing. Your kit arrives completely deconstructed, and the program leads you comprehensively from unboxing it all the way to managing your ongoing indoor farming projects with the completed kit. There is information and guidance every step of the way, and the Farmwall team of Urban Farmers are available to be contacted for help 7 days a week.
Constructing the kit from scratch also helps students learn about engineering, and gives them a hands-on appreciation of the different components of a hydroponics / aquaponics system.
▼ How big is the Indoor Farm Kit?
The whole setup has two components, the aquaponics and the hydroponics. They should be set up right next to each other, and the whole setup measures 40cm deep by 110cm wide. When both systems are filled with water, the setup can weigh up to 70 kg.
▼ Is it messy?
Not really. You may drip or spill small amounts of water around the system when maintaining the fish tank or hydroponic system. Apart from that, everything can be done neatly in a classroom on a single work surface, table or bench.
▼ Do I need to already know about fishcare?
Not at all. In fact, the program is designed for beginner fish-keeping. The program includes lessons about everything fish-care related in detail from the very basics, including how to choose which fish for your tank, introduce them to your tank, feed them, how to keep them happy and healthy, maintain good water quality, keep your aquatic plants healthy and much more.
▼ What happens in the school holidays / end of year?
Farmwall can offer a range of solutions for managing the system over school breaks. This might entail Farmwall picking up your fish in school holidays or maintaining tank health over longer breaks. The right solution for your system will depend on your location, how many systems you have in your school and when you commence the program. Contact us at whoseemail@farmwall.com.au to discuss how exactly it may be managed at your school.
▼ What support can I expect from Farmwall?
The Farmwall team of Urban Farmers and aquaponics specialists are available every day of the week on the online community platform, Ecosystem, which you join with your class when you start the program. They can answer any questions you have, troubleshoot problems, provide guidance and tips on all aspects of the growing and fishcare, as well as connect you with other growers and teachers in our community.
▼ How does it actually work in a classroom / with a curriculum?
The program that comes with the kit has 10 modules, each focusing on an element of aquaponics, microgreen growing, hydroponics, fish care, waste and climate change. Each module consists of individual lessons which include informational videos, fact sheets and instructions for progressing with your growing. There are over 65 individual lessons, ranging in length from 10 minutes to 1 hour or more. As a general guide - individuals and families completing this program have done so in times ranging 7-20 weeks.
[Include information here from the review against the victorian curriculum]
▼ How long is the program?
See answer above. The program has 10 modules which are completed at your own pace. As a general guide, others have completed the program in 7-20 weeks.
▼ I'm not ready to commit right now! Can I enrol partway through 2022?
▼ Is this program for primary or secondary schools?
Currently the Schools Program is designed specifically for secondary school students. If you are a primary school teacher or principal and you think this program would be great for your classroom, please drop us an email at whoseemail@farmwall.com.au. We are in the process of developing a primary schools program, and would love for you to be the first to hear about it!
▼ What does the price tag include?
▼ What happens when we're finished with the program?
---
Limited kits and places available. Enrol and reserve yours now.